So I have gotten 2 people to sprite Ryuvolt for us. If you want to sprite too, go ahead. Here's what I've gotten so far:
Tennisisawesome from Smogon:
This guy felt it was a little bland, so he/she spiced it up. ShadowComics, if this wins, you'll have to change the art a bit.
ShadowComics: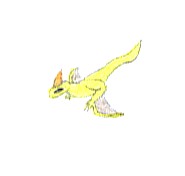 Here's ShadowComics'



Last edited by polelover44 on Tue Jan 20, 2009 2:48 am; edited 1 time in total